La tecnologia produttiva e la nostra esperienza al vostro servizio, con un costante reinvestimento dei profitti in innovazione e ricerca di mercato, sono uno dei punti di forza dell'ATI2, produttori da dieci anni.

The production technology and our experience at your service, with a continuous ploughing of the profits back into innovation and market research, are one of the strong points of ATI2, a manufacturer for the past 10 years.

La tecnología productiva y nuestra experiencia al servicio de Vds. con una constante re-inversión de los útiles en innovación y estudios de mercado, son uno de los puntos de fuerza del ARI1 productores desde hace diez años.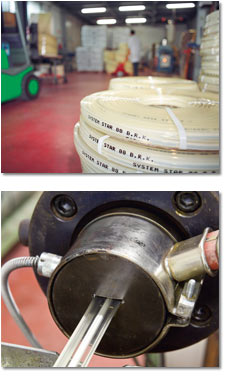 Il mantenimento della qualità e l'esperienza accumulata nel tempo, ha permesso di soddisfare globalmente le esigenze del cliente.

Our preservation of quality and the experience gained over the years allows us to totally meet the customer's requirements.

El mantenimiento de la calidad y la experiencia acumulada a través del tiempo, han permitido satisfacer globalmente las exigencias del cliente.
Produttori di poliuretano ad estrusione: cinghie tonde, trapezioidali e guaine per rivestimento rulli per alte temperature.

We produce extruded polyurethane: round and trapezoid timing belts and sheaths for coating, and rollers for high temperatures.

Productores de poliuretano por extrusión: correas redondas, trapezoidales y vainas de revestimiento, rodillos para altas temperaturas.